Introduction
Introduction
The Ankle Brachial Index as a screening parameter
Numerous studies confirm the connection between peripheral artery occlusive disease, (PAOD), and a significantly increased risk of cardiovascular incidents. Patients with PAOD have a dramatically shortened life expectancy, less than for patients with breast cancer or Hodgkin's lymphoma. Nevertheless up to now PAOD has been insufficiently diagnosed as only one third of the affected patients are identified. New studies also show that the disease is not adequately treated. With the determination of the ankle brachial index (ABI), PAOD, even when not yet symptomatic, can be simply and reliably diagnosed as a significant marker for general atherosclerosis. For this reason ABI as a screening checkup should be definitely incorporated in practice routine.
Diehm, Curt; Darius, Harald; Pittrow, David; Allenberg, Jens R.: "Knöchel-Arm-Index: Ein wegweisender Risikomarker für die hausärztliche Praxis". ("Ankle Brachial Index: A seminal risk marker for the general medical practice".)
Deutsches Ärzteblatt 2005; 102 (34-35): A-2310 / B-1949 / C-1847
http://www.aerzteblatt.de
Determining the Ankle Brachial Index
The Ankle Brachial Index is the quotient of the systolic blood pressures measured at the lower leg and upper arm (RR systolic ankle/RR systolic arm).
As blood pressure at the ankle can hardly be measured with conventional auscultatoric methods of measurement, as a rule it is determined with the help of Doppler equipment applied to a blood vessel remote from the blood pressure cuff and then, when pressure is reduced, determining when blood flows again. This measurement requires a considerable amount of time and is mostly only carried out by qualified personnel. This is probably the reason why this method of measurement is seldom used in daily practice.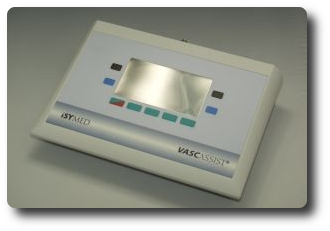 The innovation
As manufacturers of high-precision blood pressure measurement devices for the special field of hemodialysis we were able to develop the basis for a fully automated measurement device, the VASCASSIST®, with which the ABI can be measured in a very short time and at the push of a button using four simultaneously applied blood pressure cuffs. Along with this the pulse wave velocity can be determined using a short measuring cycle. Together with the ABI this permits a precise and comprehensive conclusion to be drawn about the state of the blood vessels and facilitates early diagnosis of PAOD.